Why is Robert Spencer Distancing Himself From AFDI ads?
by Sheila Musaji

The most recent hate ad campaign being produced by Robert Spencer and Pamela Geller's AFDI has a curious component. Although, Geller herself calls this an AFDI campaign, the name of the organization does not appear on the ad itself. The ad says at the top: atlasshrugs.com jihadwatch.org truthaboutquran.com The truthaboutquran replaces the previous ads sioaonline.com and takes you to the amazon page for Robert Spencer's book The Complete Infidel's Guide to the Koran. In previous ads Jihad Watch appeared as jihadwatch.com as did the message "paid for by the AFDI" (jihadwatch.com and jihadwatch.org both take you to Spencer's site). All of this changing attribution is a little puzzling.

Atlas Shrugs is Geller's site, Jihad Watch is Spencer's site. AFDI and SIOA are run by both Geller and Spencer. So, Spencer and Geller are both involved up to their eyebrows in this campaign. Why then do almost no articles written anywhere about this include Spencer's name? The Daily Beast calls the ads Pamela Geller's New Subway Ads. The Huffington Post calls them Anti-Islam Subway Ads By Pamela Geller. The Village Voice calls the ads Pamela Geller's War. Policy Mic says Pam Geller to Post New Islamophobic NYC Subway Posters On December 17.
You get the idea. Spencer is not mentioned. Although Spencer is her co-director in the AFDI/SIOA, the AFDI is paying for the ads (in an appeal for donations published on Jihad Watch it says Contribute here via Paypal to .(JavaScript must be enabled to view this email address) or tax-deductible to .(JavaScript must be enabled to view this email address) ), and both of their sites are listed on the ads, he is not mentioned. Geller is taking the public lead as the face of these ads, nevertheless, both Spencer and Geller are equally responsible.
It is not just the media that is calling these "Pamela Geller's ads". Spencer himself called the previous "savages" ad "Pamela Geller's AFDI ad calling Palestinian jihadists "savages" and in the same article he says "their campaign against Pamela Geller and her ads for what it is: an attempt to conceal the truth about the bloody reality of jihadist savagery."

Another article posted on Spencer's site in April was titled AFDI leaders Pamela Geller and Robert Spencer to Testify in Free Speech Suit Against New York's Metropolitan Transit Authority. That article says: "Pamela Geller, Executive Director of the American Freedom Defense Initiative (AFDI) and its Stop Islamization of America (SIOA) program, and Robert Spencer, Associate Director of AFDI/SIOA"

In an article posted on Spencer's site in September, he refers to the lawsuit they filed over the MTA refusal of one of their ads. Spencer opens this article with "We have filed suit against the MTA for refusing to run our pro-Israel ads. Here is a section from the suit, and Pamela Geller has much more here. ... Plaintiffs American Freedom Defense Initiative (hereinafter referred to as "AFDI"), Pamela Geller, and Robert Spencer (collectively referred to as "Plaintiffs"), by and through their undersigned counsel, bring this Complaint against the above-named Defendants (also collectively referred to as "MTA"), their employees, agents, and successors in office, and in support thereof allege the following upon information and belief: "
I don't have answers, but do have a lot of questions. Which is it? Are these "their" ads, or "her" ads. Why are so many contradictory messages being sent out? Why is Spencer taking a backseat? Why is the media allowing Spencer to distance himself? Is it possible that even Robert Spencer is concerned that the most recent ad goes too far? I am very curious to know the answer to these questions.
Here is the ad that went up this week on all 220 clocks in the NYC subway stations. This particular ad campaign on the clocks cost about $70,000.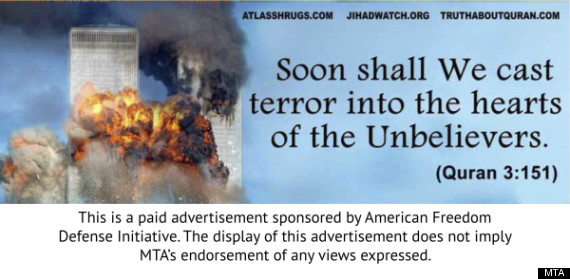 UPDATE 12/20/2012
The St. Louis Riverfront Times just published an article in their Dec. 6-12 edition titled Muslim Hunting, by Kyle Stevenson. At the end of that article was a very interesting passage about Pamela Geller and Robert Spencer's AFDI "civilized/savage" ads:
"Yet despite the link between slash-and-burn rhetoric and Norwegian body counts, conservative activists continue to agitate— pushing even beyond Horowitz's comfort zone. ... "Pam, I think she's a very brave woman," Horowitz says. "But she goes over the edge a little bit. The word 'savages'—I would have used the word 'barbarians.'"
Since Spencer's Jihad Watch site is funded by Horowitz, it is possible that Horowitz' discomfort might have something to do with his distancing himself from these ads.
On TAM, we have published a number of articles on the current controversy over a series of ads being published in public spaces across the country by the hate groups AFDI/SIOA. These articles include many sources and references regarding discussion of different aspects of this controversy:
- Pamela Geller: A Tale of Two Bus Ads
- A Tale of Three Bigoted Ads
- AFDI/SIOA Bus Ads Inspired by Ayn Rand's Racist Views of Arabs and Muslims?
- Pamela Geller & Robert Spencer announce new "Islamorealism" anti-Islam ad
- 17,000+ "Islamic terrorist" attacks exist only in fevered Islamophobic brains
- The origins of the term "Islamophobia"
- Bus Ads: Of Savages and Idiots
- 17,000+ "Islamic terrorist" attacks exist only in fevered Islamophobic brains
- Freedom of speech does not include freedom from condemnation of that speech
- Pamela Geller Does Not Understand Freedom of Speech
- American Muslims and Arabs respond to the ads.
- All extremists are "savages" and "civilized men" need to counter the hate
- How Muslims understand the term "jihad"
- Is vandalism an appropriate free speech response to hate speech? .
- The legal battle over AFDI/SIOA Anti-Muslim Ads
- American Jews Are Speaking Out Against Anti-Muslim Ads
- AFDI/SIOA Roll Out 9 More Anti-Muslim Ads
- Americans support tolerance and reject hate about the ads being placed by Rabbis for Human Rights, Sojourners, and United Methodist Women.
- Could a boycott of public transport carrying AFDI/SIOA ads be effective?
- Rep. Mike Honda Has Been There for American Muslims, We Need to Stand With Him
- 127-Member Coalition Asks DC Transit to Support Anti-Hate Efforts in Wake of 'Savage' Ad
- Interfaith Alliance and the Religious Freedom Education Project of the First Amendment Center Issue What is the truth about American Muslims?: Questions and Answers
- Public transportation ads: to hate or not to hate? about yet another series of planned ads.
- MPAC to Launch NYC & DC Metro Ads Opposing Racism & Bigotry
- Christian Religious leaders ask Congress to condition Israel military aid on human rights compliance

(Washington, DC – 10/18/12)