Newsweek's 'Muslim Rage' cover
Posted Sep 19, 2012 •
Permalink
•
Printer-Friendly Version
---
Newsweek's 'Muslim Rage' cover
by Sheila Musaji

In the past week since the terrible tragedy in Libya when our Embassy was attacked and U.S. Ambassador Christopher Stevens and three other American Embassy staffers were murdered by terrorists and information came out about a film that led to riots and protests around the world, we have posted a series of articles: The Tragic Consequences of Extremism, Muslim, Arab, & Interfaith Organizations Condemn Attacks on U.S. Embassies collecting many statements in condemnation of the violence and of the Islamophobic film. Extremist Christians Produce Anti-Muslim Film Blame Jews discussing the film "Innocence of Muslims" and the violent protests sparked around the world. Who are the real players behind anti-Muslim film? discussing what is known to date about those who produced and promoted this film, and their possible connections with the Islamophobia Industry. "Innocence of Muslims": Film and International Crisis (TAM article collection) collecting informative articles from around the world on what has become an international crisis. The "Innocence" of the Islamophobes and the Film No One Wants to Be Connected With about the disclaimers and denials of involvement coming from anyone even remotely connected with the film and its promotion.
And, now we have the latest development in this saga, as Newsweek does a cover story on the crisis titled 'Muslim Rage'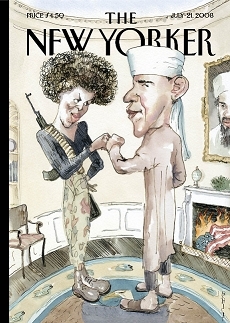 The Politics of Fear New Yorker cover.

Remember the New Yorker "satirical cartoon" cover titled The Politics of Fear which fed into rising anti-Muslim sentiment during the last election season?
That cover was meant to be a satire, but for Islamophobes, it reflected their actual views. For example, Pamela Geller of Atlas Shrugs loved it, saying: "Some may call the New Yorker's cover "satire." Some may call it "wonderful." I just call it the plain, ol' TRUTH!.
This election cycle we have Newsweek's 'Muslim Rage' cover, which is definitely not meant to be a satire.
The timing of this cover is problematic, coming in the middle of an International crisis of anti-American sentiment stirred up by the film "Innocence of Muslims". The cover article by Ayaan Hirsi Ali with the title "Muslim Rage: How I survived it, how we can end it" is designed to provoke.
Just a month or ago Newsweek had another controversial cover. That one was an anti-Obama cover featuring a cover article by Ayaan Hirsi Ali's husband, Niall Ferguson.
When that cover was published, Adam Martin made a prescient statement in an article Get Ready for More Newsweek Trolling. He noted that although Ferguson's article and the cover were widely panned, the issue sold a lot of copies. He said "we learned on Friday it also sold a bundle, so we're getting ready for more front-page trolling from the weekly."
Adam Martin was exactly right. This newest cover is also being widely panned, but it will probably sell a lot of copies.
Matt Pearce noted: "Muslim rage" is the headline, and it's brought the country full circle. To recap: Americans made a grotesque video about Islam, violent protests ensued, and now other Americans have condemned Muslims for reacting poorly."
Ben Armbruster reported that Ayaan Hirsi Ali has a history that makes her controversial. He notes "As this blog has previously noted, in a 2007 interview with Reason Magazine, Hirsi Ali called for Islam to be "defeated." The interviewer asked: "Don't you mean defeating radical Islam?" Hirsi Ali replied bluntly: "No. Islam, period. Once it's defeated, it can mutate into something peaceful. It's very difficult to even talk about peace now. They're not interested in peace."
The reaction to this cover has been interesting. Newsweek asked on its Twitter feed for a response to the question: "Want to discuss our latest cover? Let's hear it with the hashtag #MuslimRage."
What they received from the Muslim community around the world in response to this was tens of thousands of twitter responses expressing not 'Muslim Rage', but Muslim scorn, satire, irony, sarcasm, and humor. You can see some of the twitter responses here and here, and here.
Max Read published 13 powerful images of Muslim rage with twitter responses including photographs.
Some of my favorite responses are: — Lost nephew at the airport but can't yell for him because his name is Jihad. #MuslimRage — Muslims just hijacked @Newsweek's hashtag. Pun intended. #MuslimRage — I'm having such a good hair day and no one even knows. #MuslimRage
Reza Aslan, praised what has come to be called the "hijack" of the Newsweek hashtag: "Memo to those few violent MidEast protesters, this is how you fight Islamophobia. You make fun of it. #MuslimRage".
They are also receiving parody covers. And serious covers countering their image, like this one.
And, as Phan Nguyen at Mondoweiss reminds us, Newsweek has been simplifying reality, and engaging in one-sided journalism for a long time. Here is the Newsweek cover from August 19, 1985 that he turned up.
SEE ALSO:
An American Muslim on 'Muslim Rage', James Fallows http://www.theatlantic.com/national/archive/2012/09/an-american-muslim-on-muslim-rage/262507/
From anti-Islamic video to Newsweek cover: Irony, anyone?, Matt Pearce http://www.latimes.com/news/nation/nationnow/la-na-nn-newsweek-cover-muslim-rage-20120917,0,382704.story
Journalists react to Newsweek's cover http://storify.com/jilliancyork/journalists-react-to-newsweek-s-cover
Newsweek Goes for Broke with 'Muslim Rage', Alexander Abad-Santos http://www.theatlanticwire.com/business/2012/09/newsweek-goes-broke-muslim-rage/56923/
Newsweek 'Muslim Rage' Cover Mocked http://www.theroot.com/blogs/journalisms/newsweek-muslim-rage-cover-mocked
Newsweek Muslim rage results in Newsweek humiliation http://www.editorsweblog.org/2012/09/18/muslim-rage-results-in-newsweek-humiliation
Newsweek Muslim Rage Cover: Someone at Newsweek Needs to Get Fired For This, Reem Nasr http://www.policymic.com/articles/14908/newsweek-muslim-rage-cover-someone-at-newsweek-needs-to-get-fired-for-this
Newsweek Publishes Islamophobic 'Muslim Rage' Cover In Response To Embassy Attacks, Ben Armbruster http://thinkprogress.org/security/2012/09/17/857611/newsweek-muslim-rage-islamophobic/
Newsweek trolls again with 'Muslim Rage', Alex Pareene http://www.salon.com/2012/09/17/newsweek_trolls_again_with_muslim_rage/
Newsweek's 'Muslim Rage' Cover on Middle East Protests Called 'Shameful', Nicola Menzie http://global.christianpost.com/news/newsweeks-muslim-rage-cover-on-middle-east-protests-called-shameful-81754/
Newsweek's 'Muslim Rage' cover coincides with critique of Tina Brown, Andrew Beaujon http://www.poynter.org/latest-news/mediawire/188714/newsweeks-muslim-rage-cover-coincides-with-critique-of-tina-brown/
Newsweek's "Rage" Cover: Doubling Down on Islamic Hate, Michael Shaw http://www.bagnewsnotes.com/2012/09/newsweeks-shocking-rage-cover-doubling-down-on-the-muslim-hate/
Newsweek's Muslim rage invites Muslim humor, Natasha Lennard http://www.salon.com/2012/09/17/newsweeks_muslim_rage_invites_muslim_humor/
Newsweek's 'Muslim Rage': A sickening piece of shock journalism that cheapens a once great magazine , Rob Crilly http://blogs.telegraph.co.uk/news/robcrilly/100181431/newsweeks-muslim-rage-a-sickening-piece-of-shock-journalism-that-cheapens-a-once-great-magazine/
US Muslims walk tightrope, denouncing both violence and anti-Islam film, Kari Huus http://usnews.nbcnews.com/_news/2012/09/18/13942315-us-muslims-walk-tightrope-denouncing-both-violence-and-anti-islam-film?lite
Why Newsweek's Muslim Rage Cover Story Headline is Wrong, Gianluca Mezzofiore http://www.ibtimes.co.uk/articles/385244/20120917/newsweek-muslim-rage-islam-egypt-libya.htm
---